Isis: Jihadi kickboxer who planned to attack Israeli embassy in Rome is arrested
Apr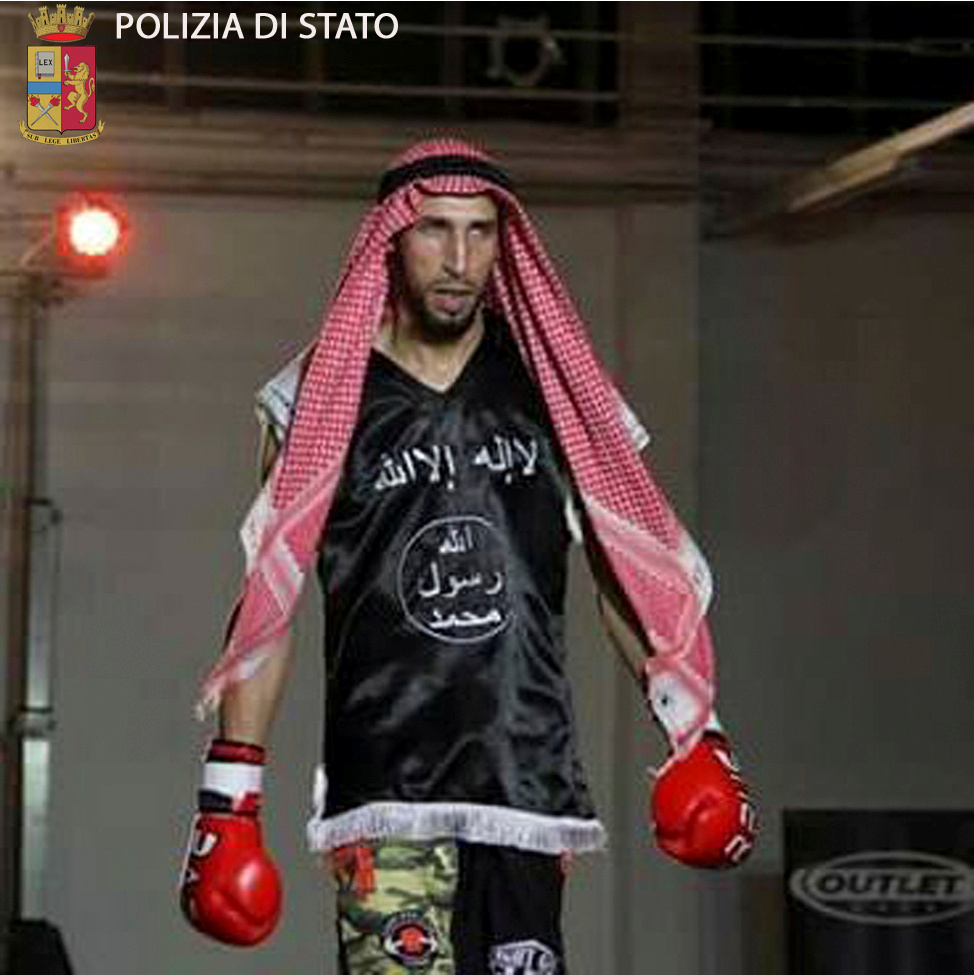 A kickboxing champion who allegedly planned to target the Israeli embassy in Rome is among four suspected Islamist militants arrested in Italy in an anti-terrorism operation. Police said Abderrahim Moutaharrik received instructions from Islamic State (Isis) to carry out an attack in the Italian capital during celebrations for the holy year that started in December 2015.
Milan prosecutor Maurizio Romanelli described the 28-year-old from Lecco, northern Italy, as an accomplished kickboxer who competed in Italy and abroad. The Italian national of Moroccan descent is listed online as Switzerland's welterweight national champion for 2013 and 2014. In an image released by police he is seen wearing boxing gloves, shorts, a keffiyeh and a black shirt styled after the IS (Daesh) flag.
"He received instructions to carry out attacks in Italy from a Moroccan man who used to live in Bulciago [near Lecco] and moved in conflict areas with his wife and three children about one year ago," Romanelli said. "This is a new profile, because it was not a generic indication, but an indication given to a specific person who was invited to act within the territory of the Italian state".
Authorities have issued an arrest warrant for the alleged instigator, identified as Mohamed Koraichi, 31, and his Italian wife, Alice Brignoli, 39, who changed name to Aisha after converting to Islam. Police released a disturbing photo showing the three sons of the couple – aged six, four and two – wearing camouflage gear as they make an IS-salute by pointing a finger skywards.
il 28, 2016 16:20 BSTi
****
a disturbing photo indeed!
More Human Rights violations involving children this time…!!!
****
In a taped conversation Moutaharrik was heard telling Khachia he wanted "to hit Israel in Rome", leading investigators to believe the fanatic plotted to attack the Israeli embassy. Pilgrims flocking the capital for the extraordinary Jubilee called by Pope Francis were also considered a target.
However authorities said there was no evidence of the attacks were imminent. IS has often issued propagandistic threats against Rome and the Vatican, which is a target of high symbolic value for the jihadi group that portrays all westerners as "crusaders".
****
Ah now we get some insight into the mind of these terrorists:
the jihadi group that portrays all westerners as "crusaders".
dar al-harb (territory of war) in their face!